Introduction to Lighting Equipment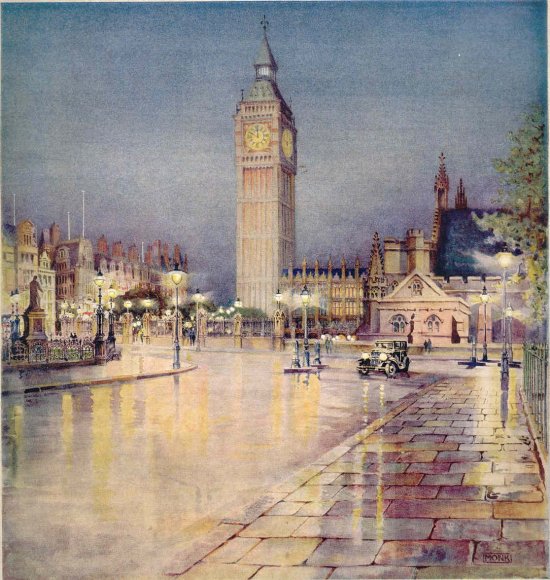 At this high point of gas lighting, Parliament Square was lit by 11 high pressure gas lamps of 1800 candle power, 12 Globe low pressure lamps of 800 & 400 c.p. and 3 low pressure gas lamps of 180 c.p. on refuges. 37, 11-light and 6-light Globe lamps fixed on entrance gates and railings, surrounding New Palace Yard and 12, 300 c.p. 6 lt gas lamps are used for lighting the precincts of the Houses of Parliament.
There are still many gas lamps in this famous area in the 21st Century. See the new 'Location Pictures' section.
—————————————-
As lighting is the original core product of William Sugg and clearly his 'passion' throughout his long career, it has been split into the sections described below, which you can select above or by clicking on the headings below.
'Burners & Controls' Three sections on burners, Open Flame, Christiania & Argand and Incandescent & Superheated and a section on Clock Controllers provide the story of the essence of achieving light from gas and the improvement that was achieved by different designs and developments and the later addition of controls to reduce labour and gas consumption . Because the Christiania burner in particular is so well known as an interior fixture and was produced at a similar time to the Argand burner which was used in both interiors and street lamps, I have combined the two previous sections to simplify understanding. The section on Clock Controllers adds the essential improvement of a mechanical lamp lighter and the addition of the Comet Igniter takes this one step further.
'Street Lamps' Six sections group and describe the most important products – for which gas was first manufactured – and the development of these lamps – or 'lanterns' which went hand in hand with the burner developments and the demand for ever-increasing amounts of light and eventually the more efficient use of gas.
'Columns & Brackets' are a striking product range in their own right with many both magnificent and decorative products surviving to the current day.
'Interior Lighting' has been given a separate section because it is in effect an entirely separate development. From open flames to incandescent mantles the products developed for the world of the interior often mirror the style of the age. Four sections provide information on the significant products.
'Ventilating Lamps' are an early and specific form of interior lighting which are essentially applied to commercial premises and large interior spaces and can occasionally still be found intact in old premises today. In addition to ventilating lamps William Sugg was an expert in 'Ventilation' in general and devised a number of devices to ventilate difficult spaces, several without the heat from a gas flame.
'Traffic Signs' are another specialist application for gas lighting and act as a good reminder of the use of gas for items that do not come immediately to mind!
'Floodlights & Spotlights'. Another unlikely application for gas lighting – but it was done!
'Oil Hand Lamps' show a non gas product produced specifically for the railways that went all over the world.
'Back Lamps' are somewhere between street lamps and interior fixtures so have been given a separate section to describe these more compact lights used in applications such as passage ways and many others.
Copyright © Chris Sugg 2006-13