You can contact me initially through the Comment box at the bottom of any page. Alternatively use the Contact Form at the end before the Comment Box if you wish to send a file – limited to 2mb.
The email address that your comments are sent to is ch***@wi****************.uk if you prefer to write direct.
PLEASE NOTE: I am now out of No.2 galleries so can no longer produce the small swan neck fixture that I have made since 2006. I do have some No.3 galleries. (JULY 2015)
Three years later (LATE 2018) I have to advise that I am really retiring from production largely because of the inability to obtain certain specialist parts in the tiny quantities I would need. I am happy to answer queries. I have made a handful of No.3 gallery brass swan necks should anyone be desperate for a working gas bracket. I have 2 or 3 original part obscured globes but no 'bell' shaped glass since my supplier has decided that it is not worth his while making the small quantities and no-one else is interested.
At this moment I have just 2 clear and 2 obscured No.2 bell shaped glass as shown mounted on the lamp below. (All gone 2020!)
This is the original note:
I have been known to manufacture or refurbish small quantities of real gas interior fixtures which are no longer made by Sugg Lighting. Mostly, however, I see my task as providing spare parts and components – especially glassware and mantles for instance – to keep traditional interior gas lighting alive in the 21st C!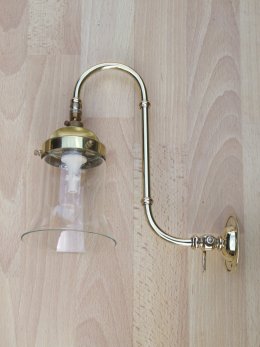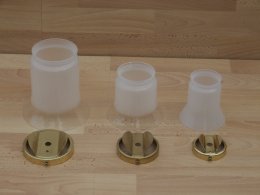 Top is my small brass swan neck with No.2 gallery and clear borosilicate 'bell' glass manufactured for either natural gas or LPG. On the right are three sizes of glass with their respective galleries, left to right, 4.1/4″ as used for large swan necks at Sugg Lighting, No.3 (or 'Universal') that is a common size from the 1930's and No.2 as used on the small swan necks. The tiny No.1 (or 'Bijou') gallery glassware has also been reproduced in borosilicate in a matching 'bell' shape in 2009. A matching gallery is not currently available. All the bell glassware is produced in clear, obscured or part obscured finish.
I do have plenty of brass No.3 galleries so would consider making a No.3 wall bracket with a No.2 OR a No.3 burner. This would traditionally use a 1/2″ diameter tube bend so is somewhat larger than the 'small' swan neck and takes the larger No.3 glass. 2018 Note See above.
---
FEEDBACK
I would be happy to hear from anyone who can add to the story of William Sugg & Co either from personal recollection or through pictures of Sugg products still in use or in collections anywhere in the world. The aim will be to add these to this site as and when possible with suitable acknowledgement. When you send information please let me know if I may publish it on this site and if you wish your name to be included with the data or even added to this 'Contacts' section.
Now that the Other Manufacturers section is live do help to populate it by sending any information that can be added. Use the Leave a Comment space at the end of the section to ensure I see it.
---
SUGG FAMILY GENEALOGY
Whilst I have collected a huge amount of Sugg family data myself, by coincidence my namesake Christopher (M) Sugg has been building a family website using his own researches and that of other Sugg researchers – including my own. We are convinced that there must be a link between our two lines principally because they both lead back to a small part of Somerset at the end of the 17th century but have so far not been able to close the loop.
Although this information may not refer directly to 'our' William Sugg those of you interested in genealogy will find it a good source of how to collect data and his booklet on a one name family is an inspiring work that is far too good to waste. With Chris' agreement I have added his Sugg genealogy information on this site under a new heading "Sugg Name Story".
July 2020.
---
USEFUL ADDRESSES:
After moving to a new address as Sugg Lighting Ltd in 2009, following the re-formation of the company with the original name of William Sugg & Co in 2019 the new address and contact information is as follows:
William Sugg & Company Ltd.,
23 Blatchford Close, Horsham
West Sussex, RH13 5RG
T: +44 (0)1293 540111 (As Sugg Lighting – also fax 01293 540114)
E: sa***@wi*********.uk
Institution of Gas Engineers & Managers. NEW ADDRESS 2009 IGEM House, 26 & 28 High Street, Kegworth, Derbyshire, DE74 2DA Tel +44 (0)844 375 4436 Fax 01509 678198 . ge*****@ig**.uk | www.igem.org.uk

---
HISTORIC GAS TIMES. (PHI – PANEL FOR THE HISTORY OF THE INDUSTRY). Now – 2017 – generally known as the Gas History Panel
Following the retirement of Barry Wilkinson from the Panel and Editorship of Historic Gas Times in early 2017, The Institution Of Gas Engineers and Managers has taken on much of the production and mailing duties and the Editorship is being shared between John Horne and Russell Thomas and the latter has now taken on the Chairmanship of what is now simply called the History Panel.
Subsequent to this note Barry Wilkinson sadly died in 2019
The HISTORIC GAS TIMES 2023
After many years as an independent publication The Historic Gas Times (HGT) has now been integrated into the IGEM publication GI (Gas International) with its much larger readership. Whilst GI is published monthly, the Historic Gas Times will continue as a quarterly integrated publication.
For non-members of IGEM who have previously subscribed to receive HGT, there remains an annual subscription. Please contact
Subscriptions, IGEM Membership Dept., IGEM House, 28 High Street, Kegworth, Derbyshire DE74 2DA. Payment is now available by Direct Debit. Subscription enquiries telephone +44(0) 1509 678 150, during office hours.
As stated in the first issue of GI to include HGT, We are always looking for new content from our readers in the form of pictures, plans and stories about the gas industry. These can be sent to hg*@ig**.uk or via post to History Panel, IGEM House, 26 & 28 High Street, Kegworth, Derby, DE74 2DA United Kingdom.
---
SPECIALIST INSTALLATION AND MAINTENANCE ENGINEER FOR GAS LIGHTING AND FLAMBEAUX
ADDED 2014 Chris Warren whose business name is WG Consultants has worked with both Sugg Lighting and myself since my retirement on many specialist projects. Contact through his email address wg***********@ho*****.uk
Note 2018 that Chris Warren has now retired although his son – also called Chris – is attempting to continue the work but I am told that he is no longer covering the wide area of the country that his father did. There are a few specialist gas engineers and it is perfectly acceptable for any 'conventional' gas installer to work on gas lighting. If you find someone who says that he knows nothing about gas lamps ask him to contact me and I will attempt to give him confidence!
In 2023 I find that Chris Warren is still 'amusing himself' in the gas lighting world so do make contact through the email address above if you have an installation or service required!
---
GAS MUSEUMS AND PRESERVED GAS WORKS:
The National Gas Museum, Aylestone Road, Leicester, LE2 7QH.Tel 0116 250 3190. Check opening times prior to visit, currently Tues, Wed, Thurs 10:00 – 3:00 email address, in*********@ga*******.uk https://www.gasmuseum.co.uk/
Fakenham Museum of Gas and Local History UPDATED NOVEMBER 2008 Hempton Road Fakenham Norfolk NR21 7LA NEW WEBSITE AND EMAIL General enquiries: (01328) 863150 Enquiries for group visits: (01328) 863507 email: en*******@fa***************.com Website offers link to Location Map and Route Finder. Web: https://www.fakenhamgasmuseum.com
Flame – The Gasworks Museum, 44 Irish Quarter West, Carrickfergus, Northern Ireland BT38 8AT Tel: 028 93 369575 email: in**@fl***********.uk https://www.flamegasworks.co.uk/
Gas Works Museum, Gas Works Road, Biggar, South Lanarkshire. The website carries latitude, longitude and grid reference and a multi map connection which provides a complete route itinerary from any post code to the site from the website: https://www.geo.ed.ac.uk/scotgaz/features/featurefirst236.html Contact Tel: 01899 221050
---
NATIONAL GAS ARCHIVE HELD BY THE NATIONAL GRID
---
CIBSE – BUILDING SERVICES ENGINEERING – HERITAGE GROUP
A wide range of historic information on building services, companies and people involved in them – including gas equipment – with an active heritage group at: Heritage Group of CIBSE www.hevac-heritage.org

---
GAS LIGHTING SHOP IN PARIS – & 'GAZETTE AFEGAZ'
The 'must visit' gas lighting shop in Paris mentioned in the 'collectors' section and owned by Monsieur Ara is: Lumiere de l'Oeil, 4, rue Flatters, 75005, Paris, France Huge amount of information in 3 languages on his website: https://lumiara.perso.neuf.fr/lumiara/ NEW WEBSITE ADDRESS NOV 2008
The website for Gazette AFEGAZ is: https://members.aol.com/Afegaz/Page1.html
Series of videos about gas lighting on You Tube NEW YOU TUBE ENTRY 2011 https://www.youtube.com/watch?v=gmw4jJY0iXs&feature=youtu.be. And others.
---
STREET LIGHTING ENTHUSIASTS AND COLLECTORS WITH WEBSITES FULL OF INFORMATION – INCLUDING REFERENCES TO SUGG.
Bob Cookson. Specialist on street lighting in Eastbourne with major collection of lanterns and street lighting equipment. www.cooksonr.freeserve.co.uk

Simon Cornwall. Another major collection including catalogues and advertisements from many trade sources. www.simoncornwell.com/lighting/

(Many more to add! Several can be found via the sites above)
SPECIALIST BOOKLET "WHEN THE STREETS WERE LIT BY GAS" by Philip Tordoff. (See 'Other Manufacturers')
YEOVIL HISTORY website by Robert Osborn with a section on Sugg Lamps
https://www.yeovilhistory.info/sugglamps.htm
---
OPEN AIR MUSEUMS.
Ironbridge Gorge Museum www.ironbridge.org.uk
Black Country Museum www.bclm.co.uk https://www.facebook.com/bclivingmuseum

Beamish – The Living Museum of the North Visit: www.beamish.org.uk beamishtransportonline.co.uk/ 2012 VisitEngland Awards for Excellence – Large Visitor Attraction of the Year Sandford Award for Heritage Education Beamish Museum Limited, Beamish, County Durham DH9 0RG Main Switchboard – Tel. 0191 370 4000
---
HERITAGE RAILWAYS – FREQUENTLY WITH WORKING GAS LIGHTS
The Bluebell Railway Preservation Society, Sheffield Park, East Sussex has gas lighting on the platforms and access roads and walkways, much of it with Sugg connections. Lots of detail on their multi lingual website: www.bluebell-railway.co.uk/

The Keighley & Worth Valley Railway in Yorkshire has a first class website at: www.kwvr.co.uk/ They have some 75 gas lamps of which about half are of Sugg manufacture.
Severn Valley Railway has lots of information on their website: www.svr.co.uk/

West Somerset Railway. www.west-somerset-railway.co.uk/

---
GAS LIT PUBS AND OTHER BUILDINGS
(Please check before visiting to avoid disappointment)
The Craven Arms, Appletreewick, Nr Skipton, North Yorks BD23 6BN. (Inverted mantle burners)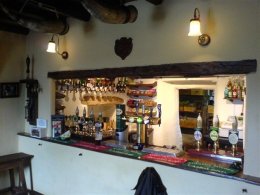 The Hat and Feathers, 2 Clerkenwell Road, London,EC1M 5PQ. (Open flame)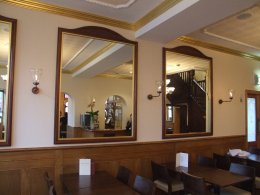 Gas Lit Churches
St Johns Methodist Church, Ashbrooke Road, Sunderland, SR2 7HQ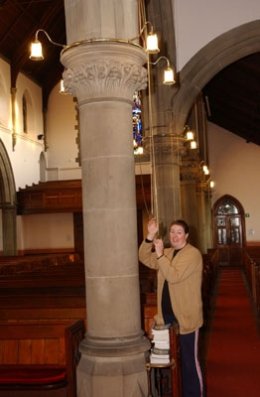 No Fields Found.
Copyright © Chris Sugg 2006-13 Top of page