The production of Gas Fires had stopped well before the second world war and no development had taken place since the 1930's which is why this section has been separated from the earlier one in which the fire designs have a significantly 'old fashioned' appearance.
The Company had been heavily involved in wartime activities and continued with armament production right up until the middle of 1954. It was clear that new products were needed for the post war era and the development of the Halcyon warm air heaters was underway but was a slow process. Coincidentally, about the same time, 1954, Suggs' acquired the Cowper Penfold company via an introduction by Bob Young who was Company Accountant to both companies. Cowper wished to retire, remaining for only a short consultancy period after the sale. The CP company had developed a number of gas fires and it was these that provided the new impetus with both convector fires and balanced flues.
Gas Fires for a 'Modern' World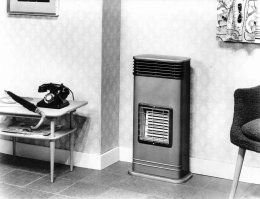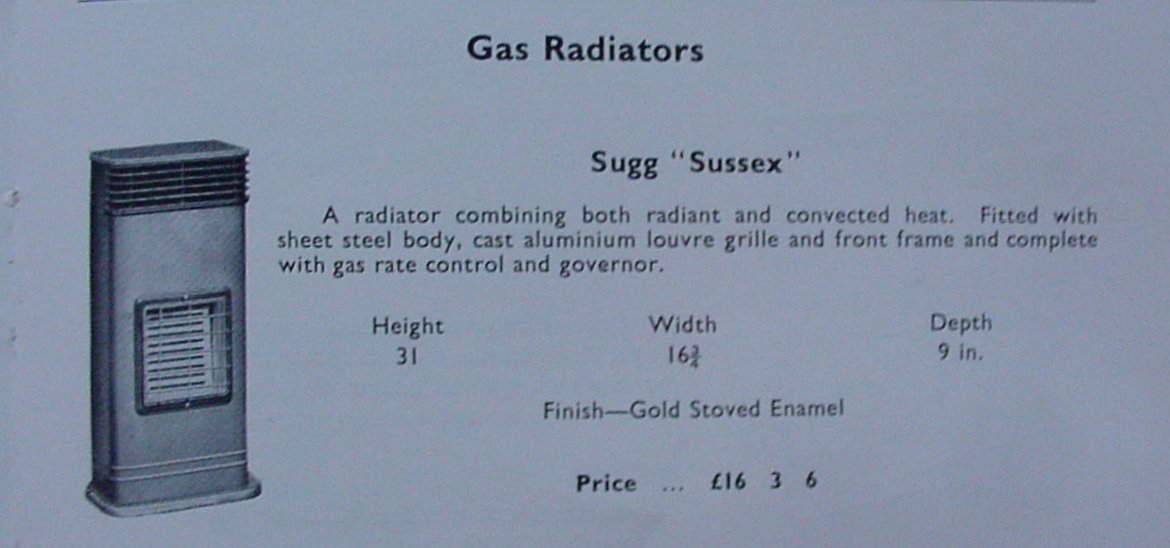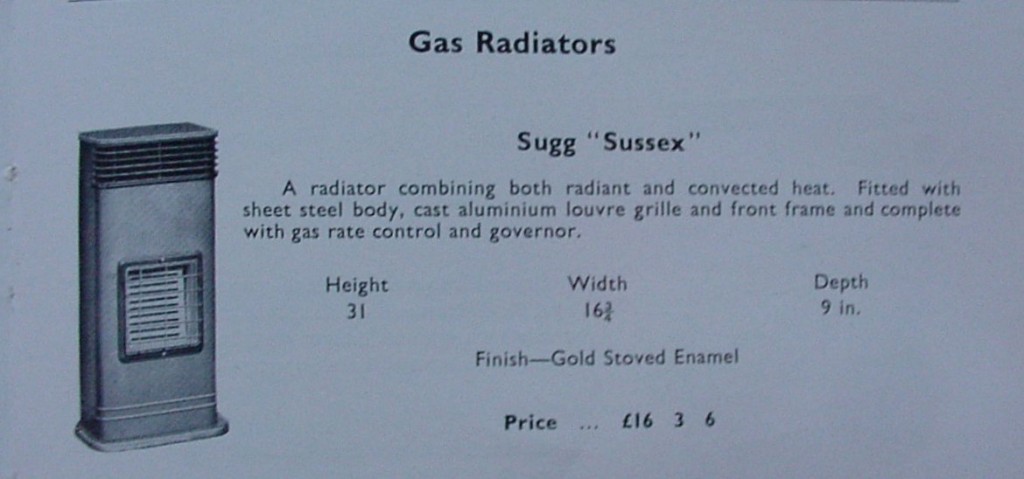 The 'Sussex' – Radiator?
Catalogued in a third party list as a 'Gas Radiator', the Sussex is one of the first radiant/convector gas fires produced after the war. More likely to be seen in an office or factory, the design did not suit the growing concept of fireplaces that were wider than they were high which was in due course to drive the appliance design into the completely opposite rectangular shape!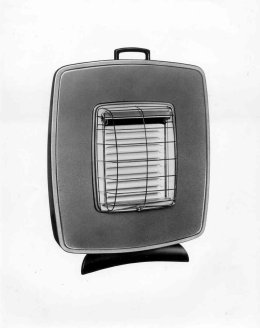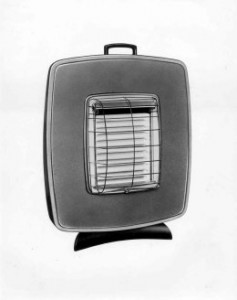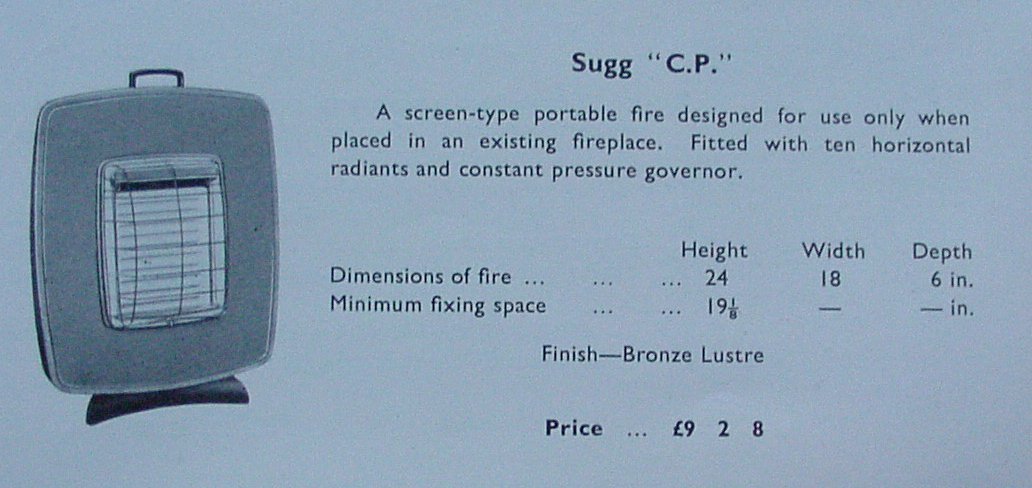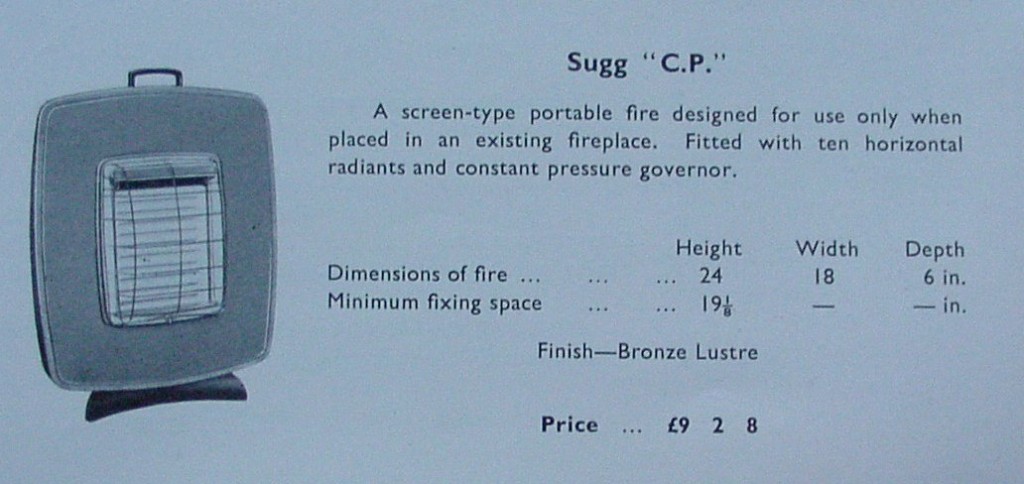 The 'CP' Screen Fire
The Screen Fire, produced at a similar time is extraordinary to the modern way of thinking in that it is a portable gas fire intended to be simply placed in an existing fireplace and plugged in to the 'gas poker point' that was always provided beside the hearth of a coal fire to enable the coal to be easily and quickly lit!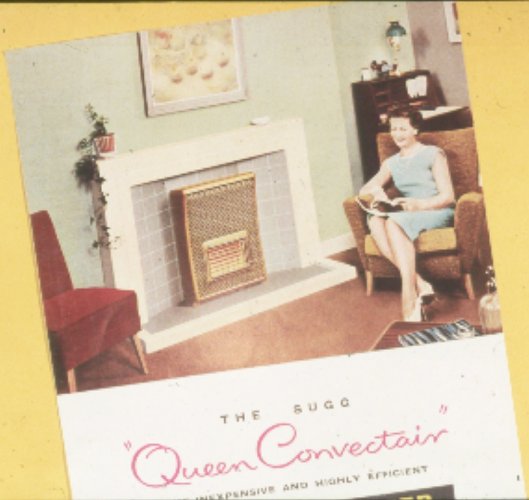 The 'Queen Convectair'
Here at last was a fire that lived up to it's name. The 'Queen fire', as it was more normally called, was particularly effective at providing convected warm air in addition to the relatively small area of radiant heating. The whole of the front consisted of a pierced sheet metal panel enabling large movements of the air that was heated up by the products of combustion. These passed through a large steel clamshell-type box before passing out to the flue. A classic of its time, it was considered by many to be one of the best fires ever produced.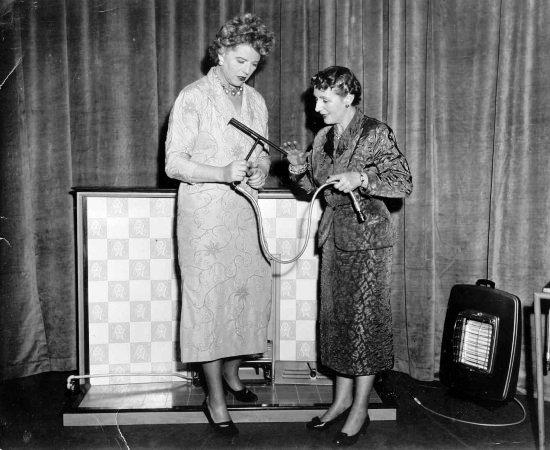 These splendid ladies are part of the team of lady demonstrators employed by the gas boards to demonstrate domestic appliances. Here they are discussing a plug-in poker in front of a gas fire display with a Sugg Screen Fire on the right.
UNDER CONTINUOUS DEVELOPMENT – PLEASE TRY AGAIN LATER
Copyright © Chris Sugg 2006-13