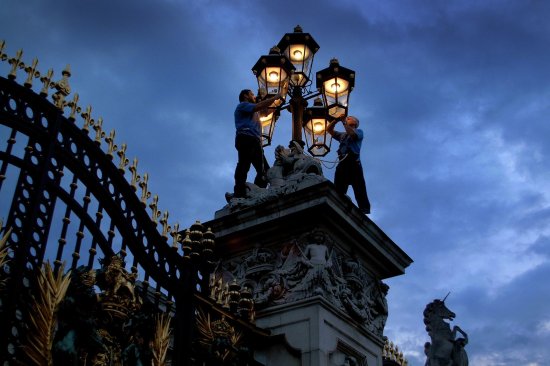 Hello, my name is Chris Sugg and I am attempting to secure the history of a family company called William Sugg & Co through the posting of as much data as possible that I, my Father and previous family members before, have collected over several lifetimes of interest in the business!
Founded in 1837 by William Sugg, it was doubtless his father, Thomas, who inspired William to start a company – as grandson William Thomas stated in a lecture, subsequently printed, to the Liverpool Institute on April 23rd 1887:
The great Gas Industry, (which) made its public appearance in my grandfather's time, on the 21st January, 1807, when Pall Mall was lighted with gas, and he made the first gas pipes, and fitted Carlton House, has grown etc…
Interestingly, for a significant historical date, there are several alternative claims! Murdoch had lit Boulton & Watts Works near Birmingham in 1802 to the astonishment of the populace who turned out in huge numbers.
According to the "Monthly Magazine" of July 1807, Winsor first lit a number of lamps on the wall of Carlton House Gardens to celebrate the birthday of George III on 4th June 1807. We do know that Winsor first started his series of lectures in 1804 and who are we at this distance to say that William Sugg had made a mistake over the date, although of course it was well before his own birth. I have now added a full transcript of the account in News Blog as sent to the Monthly Magazine which explains that experiments had been going on for some time particularly to check the soundness of of the pipework that certainly adds to the credibility of the claim.
The August 1807 issue of the Athenaeum Vol 2 , reports that The Golden Lane Brewery had erected several gas lamps in Golden Lane and the adjoining Beech Street. Significantly however, King's Treatise states that the first public street lighting with gas, took place in Pall Mall, on the 28th of January 1807, which is only one week different from William Sugg's claim!
Finally, on this issue, in William Matthews 1827 book, "An Historical Sketch of the Origin, Progress & Present State of Gas-Lighting" he states: "Mr Winsor removed his exhibitions to Pall Mall, where, early in 1807, he lighted up a part of one side of the street, which was the first instance of this kind of light being applied to such a purpose in London."
In June 2007 Westminster City Council agreed to mark the bicentenary of the "World's First Demonstration of Street Lighting by Coal Gas from a Retort Located Here" by the provision of a Green Plaque, so worded, mounted on the wall at 100 Pall Mall, London, the nearest position to the original location. The picture shows 'unveiling in the rain' by the Deputy Lord Mayor and the President of the Institution of Gas Engineers.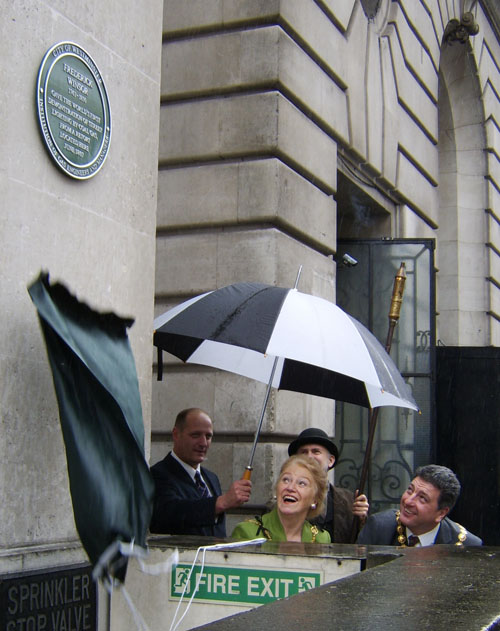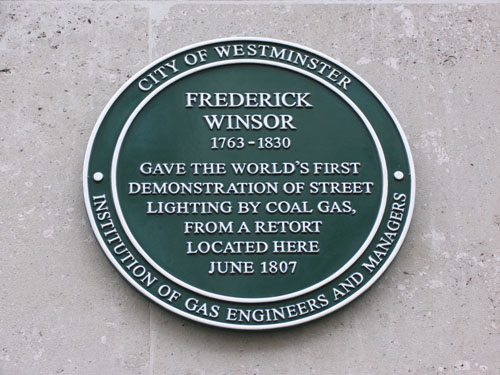 William Sugg & Co has a long and illustrious history in the Gas Industry of the United Kingdom. With offices and sales of gas lighting in many parts of the world, particularly during the last quarter of the 19th century and the first quarter of the 20th century, there are many enthusiasts and collectors of Sugg products who I hope may benefit from knowing a little more about both the products that they may have collected, the enormous range of gas and related equipment that the Company produced, and the background and history of a Company that has its origins at the very beginning of a modern industry.
The "One Hundred Years" Brochure "Service During Six Reigns 1837 to 1937"
As far as I am aware, the only previous attempt at the history of the company was made in 1937 for the centenary of the founding.  The booklet, complete with silk ties as shown above, was produced for the occasion, outlining the major steps in the development of the Company.  With the marvels of modern websites you can now view the whole of it by flipping the pages!  Obviously the development of the Company from 1937 onwards was dictated by many things, not least of which was the decline of gas lighting which had been the mainstay of the Company since its inception.  How the Company finally embraced the 20th century in its new factory in Crawley is all part of the story that I shall attempt to unravel.
Although William Sugg & Co. Ltd was subject to an unwelcome takeover by Thorn Electrical Industries Ltd., in 1969, a group of ex Wm.Sugg employees with Chris Sugg and Keith Bouracier at the helm started a new company in 1973 with the off the shelf name of Massrealm Ltd. which in due course became Sugg Lighting Ltd. The heating products of William Sugg & Co. Ltd. having been absorbed into another company following the takeover, the once famous company name was eventually dissolved at the end of 1989.
Sugg Lighting Ltd, however, re-developed and manufactured both gas and electric lighting equipment with a strong flavour of the past and the eye-catching open flame "flambeaux". Whilst never claiming to be the original William Sugg & Co., Ltd., the family connection was obvious and by providing a specialist service with high quality products the business prospered.
In due course at retirement of the initiating directors, the business was sold to F.W.Thorpe plc, a street lighting manufacturer with whom the company had been trading. Thorpe owned a number of smaller companies that they allowed to run as independent operations in a smaller factory in Horsham.
In 2008 Sugg Lighting Ltd was awarded a Royal Warrant as a "Heritage Lighting Manufacturer and Refurbishment Specialist". Their website and contact information is included in the Contacts section. BUT note the comment below regarding a new company.
After a number of years F.W. Thorpe decided to concentrate on their core business and sold Sugg Lighting as a going concern to an individual who failed totally to support and run the specialist business resulting in the company being put into administration at the end of 2018. Following some mischievous shenanigans Sugg Lighting was finally liquidated. However, the story becomes more complicated but much improved with another 'rebirth' in 2019! A new company bearing the name William Sugg & Co., Ltd., has been formed to once again carry the name forward into the future. This comes with the blessing of Chris Sugg who is assisting in the process.
For a number of years Chris Sugg independently offered from his retired position a super-specialist service in interior gas lighting fixtures, spares including glassware and advice and assistance on all matters Sugg! See Contacts. PLEASE NOTE that the reduction in available parts – and anno domini (for him) – has now (2017) reached a point where it is unlikely that Chris Sugg can still manufacture any more interior fixtures. A few items remain and he is happy to reply to enquiries. Glassware can, sometimes, be made to order – at least at present!
The site is split into a number of sections built around product groups which are then split further into individual products or even further groups. During the development of the site there may well be sections that carry only an introduction as this is an enormous task! However, do not let this prevent you from enquiring should you have a specific question on a 'thin' section.
The original website was started in 2006, since when there have been vast strides in website design and presentation. This NEW Website has been developed to provide a more modern and easier system of navigation with an entirely new level of interaction and improved visual content.
Finally, I would like to add that the vast majority of documents, illustrations and pictures used on this site are from my own collection. Literally hundreds of pictures from this collection have been scanned professionally at very high resolution for the Gas Industry Archive through the auspices of John Horne for the future enjoyment, historical interest and for researchers in the future. Some items that I have included have been photographed when a collector has brought them along or even sent a picture and I apologise if I have not recorded the source. The source of independent articles that may have been quoted are given where known and my grateful thanks go to many people and any unspecified sources that help to make up this unusual history of a Company that helped to form the world we live in.
The 'History' section provides a sequential story of the people and the business whilst the huge range of products are split separately into 'Lighting', 'Cooking'and 'Heating' and a 'Technical' section that covers gas control, carrying, measurement and testing equipment – and anything else that doesn't fit in the obvious sections!
Many Sugg pieces of literature are collected in their own right so these have been given a section under the title 'Publications', to enable collectors to recognise them. It appears that the truly hungry researcher/collector has been frustrated by not being able to 'open up' the various catalogues, so for the Jan 2010 upload I have added all 103 pages from the 1931 List 11. This section has now itself been split into three, 'Literature', 'Books & Papers' and 'Advertising'to simplify the organisation of this large collection of information. I have included a separate 'Collectors' section to show relevant collections which will not necessarily all be Sugg but will always include some 'home' products! This may also include pictures sent to me if they do not fit into any other section! The 'Contacts' section provides means of increasing your knowledge of the subject from museums to archives to gas lit pubs! Time will show if more sections are required!
This last comment has now come true! In order to assist the reader in finding something relevant or of interest to their particular search I have started a section called 'Thumbnails' which, as the name implies, carries thumbnails of all the pictures on the site collected into the groups in which they are used. Thus, if you have a query about 'lighting' for instance, you can review all the pictures within this huge group without having to wind up and down many pages of full size text and pictures.
Back in 1979 my father, P. Crawford Sugg B.Sc.(Eng.),A.C.G.I.,C.Eng.,F.I.Gas E.,F.C.I.B.S., Honorary Secretary, The Institution of Gas Engineers, presented a paper to the 116th Annual General Meeting under the title of "Using gas, yesterday and tomorrow". Whilst this website is dedicated to providing Sugg specific information, the paper provided an overview of gas 'utilisation' indicating and illustrating the steady improvement in manufacture and design achieved by the British gas appliance and equipment makers during the last fifty years (from 1979) in all significant aspects of gas utilisation. Thus his paper provides an important chronological history of both appliances and manufacturers, peppered liberally of course, with the achievements of William Sugg & Co in this context. For anyone interested in the history of the Gas Industry this is an invaluable reference and, with the agreement of the Institution I have been given the opportunity to quote liberally from it as a means of disseminating the information more widely and of course filling in details for many aspects of the history of William Sugg & Co which are within this website. This paper is included as a separate section under the heading 'Gas Utilisation'.
A new section entitled 'Brassware' has been added for 2013. The Company made tens of thousands of brass components and this section describes this important aspect of the business.
For the same year, 2013, another new section 'Location Pictures' has been added to provide a space for pictures that either don't fit anywhere obvious or are additional to ones already in a particular section. If they are additional they are given a hyperlink back to the relevant section. All the pictures have also been added to the 'Thumbnails' section in the order used as before. There are currently over 700 pictures on the whole site!
In addition to splitting the Publications section in three in 2014 a new section has been added on the 'Other Manufacturers' who produced gas street lighting during the period of time that William Sugg was in production. This section will necessarily be a joint effort asking for as much information as possible from enthusiasts, collectors and anyone who has detailed knowledge of this popular area of interest.
In 2018 a new section entitled simply 'People' has been added to provide a space for photos and recollections of and about employees and Sugg family to give an extra dimension to the history of the company.
In 2020, the year of the pandemic, I was able to add a section on the Sugg name and the movements or 'migrations' of the name by kind agreement of my namesake Christopher M Sugg. Following retirement as a teacher he spent a great deal of time researching the family and the unusual name, producing a really informative booklet which should interest anyone researching any family and name as it carries many useful references. You will find this at 'Sugg Name Story'
Information on Previous Uploads – Starting in 2013
Notes at the top of this Home page for 2013 read:
The History section has been enlarged again with the details of the 'sale' of the business by William Sugg to form the Limited Company in 1881 and the amazing Crystal Palace Exhibition display in 1883.
There is also the story of a fire started by an aggrieved employee in 1896 & his eventual capture after a 'desperate struggle' in 1905! Follow the section chronologically.
Two new sections have been added, 'Brassware' and 'Location Pictures' and the Windsor lamp section has been considerably enlarged and the Christiania & Argand section has been rearranged with lots of pictures added. A new 'Collector' has been added.
A few sayings about light which William Sugg would doubtless have appreciated:
Light is the most beautiful of materials, it connects us to the natural world, as this world becomes more artificial its purity becomes even more powerful

David Chipperfield
The existence of light allows us to walk along the tightrope between translucency and transparency

Nicholas Grimshaw
All the darkness in the world cannot extinguish a candle

Anon
Light gives objects existence as objects and connects space and form

Tadao Ando
Shadows are holes in light. An enlightened environment is what we all seek, politically, economically and physically

Ian Ritchie
Darkness cannot drive out darkness, only light can do that. Hate cannot drive out hate, only love can do that

Martin Luther King
Enjoy Your Visit and do let me have any practical feedback via the Leave a Comment Space.
Chris Sugg.