This section has been added to provide a space for the many hundreds of people who have been employed or involved with this long-lived company. Several of the photos go back a long way such as this first one and show large groups of employees all of whom by now will have gone to that other world leaving only their photos and families behind them. Sometimes the date is unknown but a hopefully intelligent guess has been made. If you spot an ancestor do make contact so that names can be added.
Don't forget to 'click' to enlarge the picture and some can be enlarged twice with the top right hand symbol.
The second reason for this section is that I have received letters from retired employees – some at a very advanced age – describing their life and the factory and even giving names of work colleagues and managers etc. This helps to give a picture of life in the factory over a good period of its existence. Some of the pictures and descriptions do appear elsewhere on the site but are collected here as there now appears to be sufficient to merit its own section.
If you have any information or recollections or suggestions I would be happy to add them here.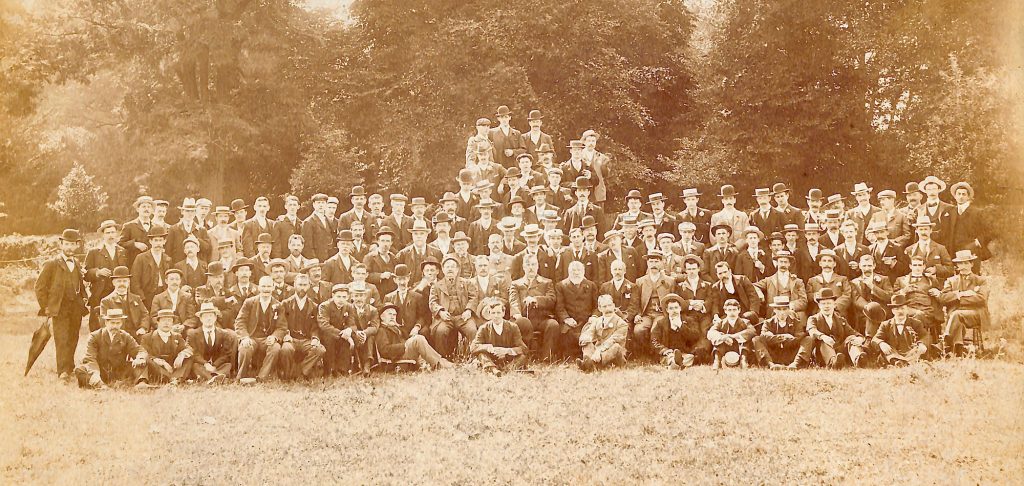 Group of 115 William Sugg employees including an elderly William sat just right of centre in dark top coat and of course with a beard. Approximate date 1900 and could be a picture taken prior to an 'Employees Annual Summer Outing' such as the one described in the very ornate invitation card dated Saturday 18th August 1900 to be shown below. (Exactly 118 years ago to the day it was added to this site!)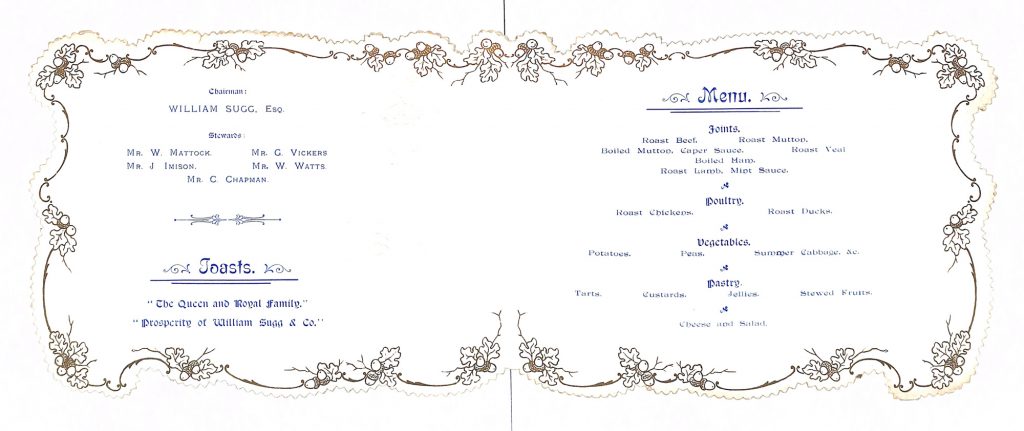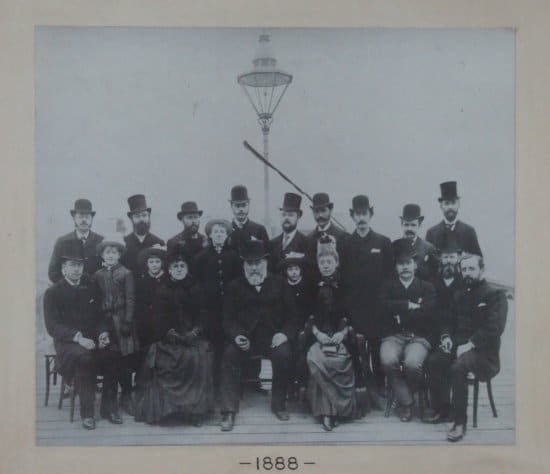 Taken on the roof of the newly completed extension to 'Vincent Works' with senior employees and lots of family surrounding William Sugg with a post mounted "Westminster' lamp in the background. This picture comes from the 'History, Section 3' where all the known the names have been added.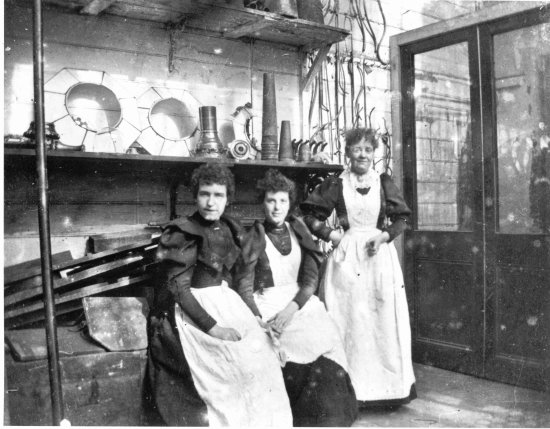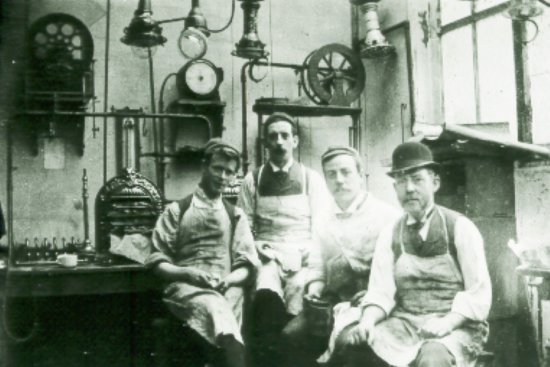 The two pictures above were clearly taken in the Westminster factory at their respective benches. The men appear to be at lunch and the picture must have been taken by one of their colleagues with probably a 'pinhole' camera.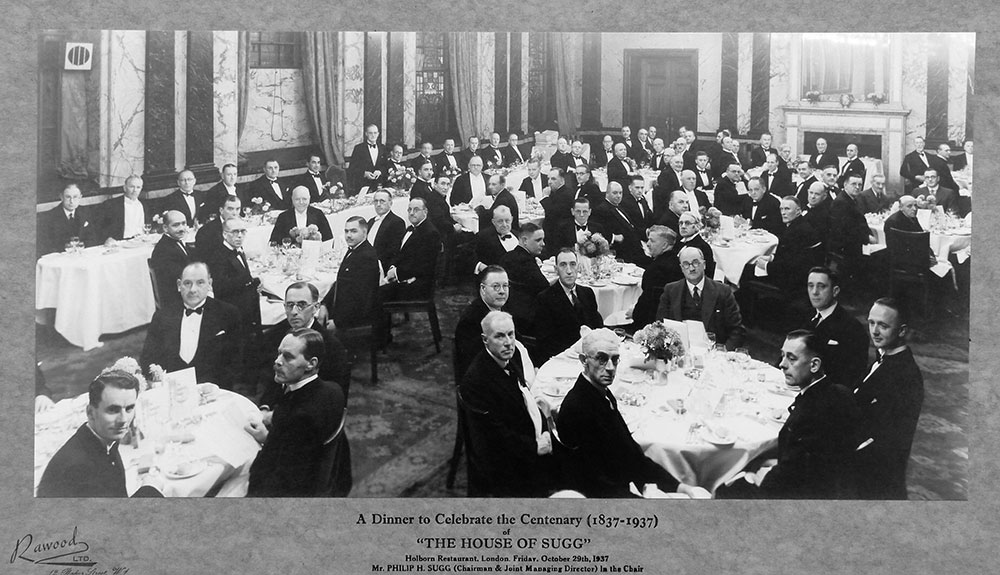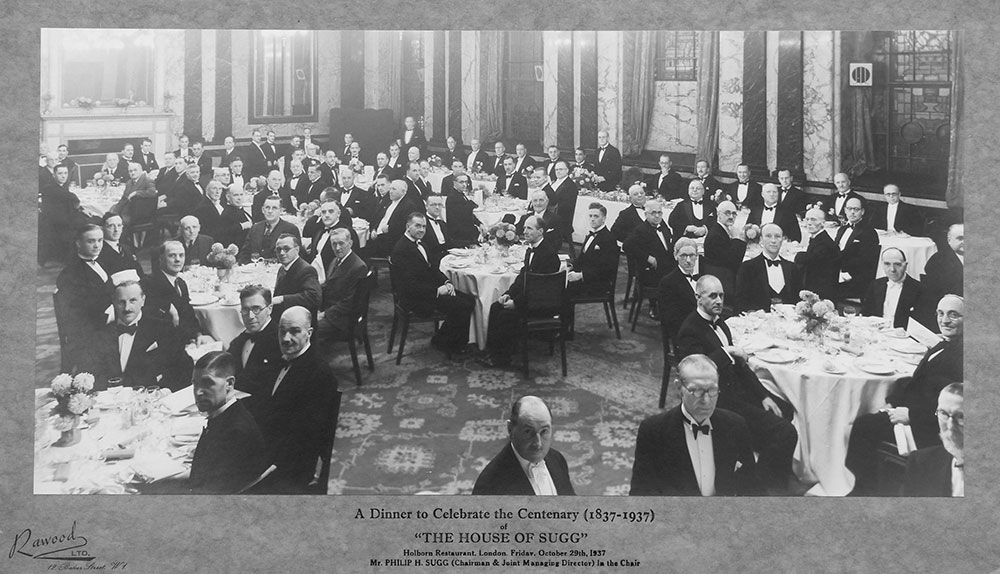 Centenary Dinner of "The House of Sugg" 1937, with PH Sugg, Chairman, standing at the centre of the long table. These pictures come from the History Section 4 where you can find the whole invitation list.