This section is devoted to the collectors and their collections – aimed at William Sugg products or connections – but also open to related items which are historically interesting and/or important. Many collectors hold products sourced from a wide range of manufacturers and sometimes this will help us all to understand the development of a particular product. Books literature and general publications have been separated into their own section under 'Publications' and are frequently a resource for many of the product sections. Specific museum collections are listed in the 'Contacts' section.
Unfortunately, like the rest of us, collectors have only one lifetime! A common problem, therefore, for all 'private' collectors is what, eventually, to do with the collection! It is such a personal enthusiasm that even many of the closest family members would not know what to do with the collection if they were to be left with it – and the horror of the skip looms large. Some of the private collectors in this section hold nationally or internationally important collections which are not likely to be bettered by any world class museum. I would like to propose that any collector who wishes to review his options can provide a contact point through this website to allow any private person or public body to consider some, part or all, of their collection for purchase, exchange, gift or even promotion to a more significant status, to ensure that often a lifetime's diligent collection never goes to waste.
A new category of gas lighting enthusiast prepared to 'invent' their own exterior gas lamp has been included in July 2015. Whilst Martin Lawrence would rather I called him 'Alternative' I think just plain 'Enthusiast' covers it much better! This sort of 'invention' requires a special sort of knowledge as well as great skill as amply demonstrated in his section below. Just look at what he has used – but do remember that this is NOT something for the amateur – Martin has worked for British Gas and, although not 'Gas Safe' registered he is clearly no amateur. You will also find a remarkable refurbishment job he did to a collection of bits of a Veritas upright street lamp (a bit like an Upright Rochester) he bought on eBay. Look in 'Other Manufacturers' and under Veritas to see the 'before and after'!
---
Ara Kebapcioglu – Paris, France
In order to kick start this section I have been given permission to show a number of pictures of products from the collection of Ara Kebapcioglu – everyone calls him Ara! He is the proprietor of a wonderful little shop in Paris called Lumiere de l'Oeil located at 4, rue Flatters, 75005, Paris. As the name of the shop translates to "Light of the Eye" you can imagine that this is a super specialist lighting shop carrying lots of gas lamps many of which are 'in gas' as they say. If you are interested in interior gas lighting this shop is a must! Many of you will be relieved to know that Ara speaks many languages fluently, including English of course! As you might suspect he has a fantastic website which is also listed in the 'Contacts' section. https://lumiara.perso.neuf.fr/lumiara/
He is intimately connected with a publication called Gazette AFEGAZ which is published regularly with articles on the history of gas and gas appliances – mostly in French but occasionally with a translation! The AFEGAZ website is also in 'Contacts'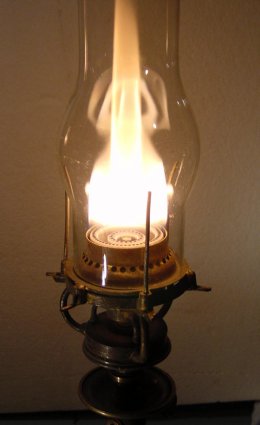 Sugg Argand Burner with Two Circles of Holes in the Steatite Head
These pictures are claimed to be a Cromartie fixture. Whilst they certainly have similar features, the fixture feels too 'crude' for the true Sugg fixture!! If you look at the Sugg catalogue pictures in the Cromartie section – you will see the comparison. It does however illustrate the shape of the flame.
Doubtless this discussion will continue!
Picture from 'Ara' for Gazette AFEGAZ

---
Collector – Bristol, England
I had the pleasure of talking to a collector who lives in Bristol. He was born in the town although he has a Scots background and he remembers his mother lighting the gas and being sufficiently frightened but also intrigued by the 'pop' of the ignition that he would watch from behind the door through the crack by the hinge! When he moved back to the house he now occupies he was walking past an antique shop and spotted a lovely wall bracket with a nice piece of green glass. On a whim, he went in and bought it! The rest is history and he now has 31 fixtures 'in gas'. He has given me permission to show you the selection below.
Probably the most unusual and maybe the oldest piece is the pendant immediately above. This is a classic open flame burner which was designed to be 'parked' up against the ceiling during the day and swivelled down to operate at night. This one is also telescopic and the whole idea is to bring the very modest light source down to a more usable level often necessary with high ceilings. (The extra pair of chains passing through the ceiling operate a remote lever cock as a non original safety device.) The telescopic arrangement was always dubious as the sealing was achieved with a cork seal which would frequently leak! In this case the seal has been changed for a more suitable modern material.
I am hoping to get some pictures of the lamps actually running as it adds a lot to the story.
---
Phil Ellis – Llangollen, North Wales
Phil says:
"I've been interested in gas lighting since I was about 10 years old, fascinated by the Sugg Rochester and Littleton lamps that were still in situ around 1976 on Pwllheli railway station. Unfortunately these went circa 1978."
"I've been collecting gas lamps for about 27 years, initially at auctions locally. I discovered that many of the chapels of the Presbyterian Church of Wales that have sadly closed, have their original Victorian and Edwardian fixtures still in situ, particularly in the Welsh speaking chapels and I've been able to obtain fixtures before the salvage yards have been called in. This also explains why I have a lot of fittings in pairs (one either side of the pulpit)"
As you will see this is a really superb collection across the range of gas wall brackets from decorative to converted early swivel upright and even a gas bracket that has been converted to take an oil font. It is a particularly notable collection for its original glassware that came with the fixtures – not put together after the event. CS
---
Ray Tye – London, England
And now, quite possibly the most comprehensive collection of (particularly interior) gas lighting and associated items in the UK! Not only that but also a major collector of early electric lamps (light bulbs to many of us) and several other items that generally lie outside the remit of this website!
Ray Tye has been collecting for many years. He is now retired but held the enviable post of archivist to the Phoenix Insurance Company, providing him with a huge resource of information. Only a few years before these pictures were taken he moved his whole collection from one address to another – no mean feat even if the items had not been installed – and he is now threatening to move again! Each move has been accompanied by a small reduction in the collection. On the last occasion he decided his collection of gas street lanterns was simply too large to re-house and had to find new homes for them. There are many Sugg items but the beauty of a general collection is the pure comparison that can be seen across the whole range.
These pictures were taken during a visit in April 2005 and Ray tells me that he has sold a few items and that duplicates and the less important items are available.
Whilst some collectors concentrate on one single item and others on a specific sector, Ray Tye has both related and un-related collections. His collection of electric lamps (bulbs) is quite possibly the most important collection of its type. He has many duplicates and even several hundred traditional carbon filament type lamps which he wishes to sell. If anyone is interested in learning more specifically about these items, Ray can be contacted on rg****@bt********.com (new email address 2011) Ray and his collection of light bulbs were mentioned in an interesting article in The Guardian on collecting light bulbs which can be read at: https://www.guardian.co.uk/money/2007/jan/14/alternativeinvestment.observercashsection
Finally, in 2014, Ray told me that he had managed to get his collection of lamps (bulbs), mentioned above, re-housed by The National Trust in the most apt of locations, 'Cragside', the first house to have electric lighting, an excellent result for such an important collection.
Finally, in November 2021, 14 years after the Guardian article that mentions Ray making notes for his book in a local hostelry, the book is about to be printed – just 100 copies – with the apt name of "Rays of Light", the culmination of a life of collecting for which he can be justly proud.
---
Maurice Wilkinson – Sheffield, England
Maurice Wilkinson's Sheffield Hotel which only closed to guests a few years ago, is a unique illustration of one mans' enthusiasm for gas lighting. The hotel was formed from two adjacent houses and, now that one is to be sold, I took the opportunity in June 2008 to visit Maurice and photograph the fixtures before they were removed prior to sale. Maurice believes that if the fixtures were to be left in-situ any new owner would simply scrap them whilst 'modernising' the house so he would rather pass them on to another gas lighting enthusiast than lose what is fast becoming a unique facility. I am sure you will agree that he is right!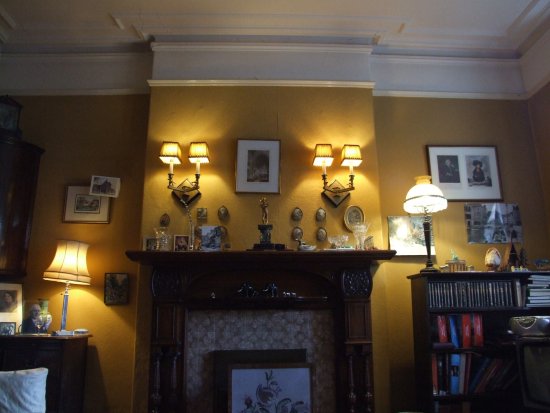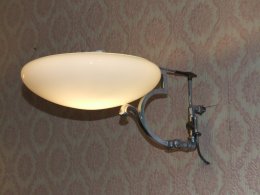 [Maurice Wilkinson died on the 13th August 2019 at the great age of 98. He had a stroke at 96 and someone visiting reported a smell of gas resulting in an upsetting visit from the gasman who condemned several of his ancient gas fires and other items. Maurice was quite impressed with the modern gas fire they fitted in the room where he spent most of his time. It replaced a wonderful 'Sunbeam' which should have finished in a museum!]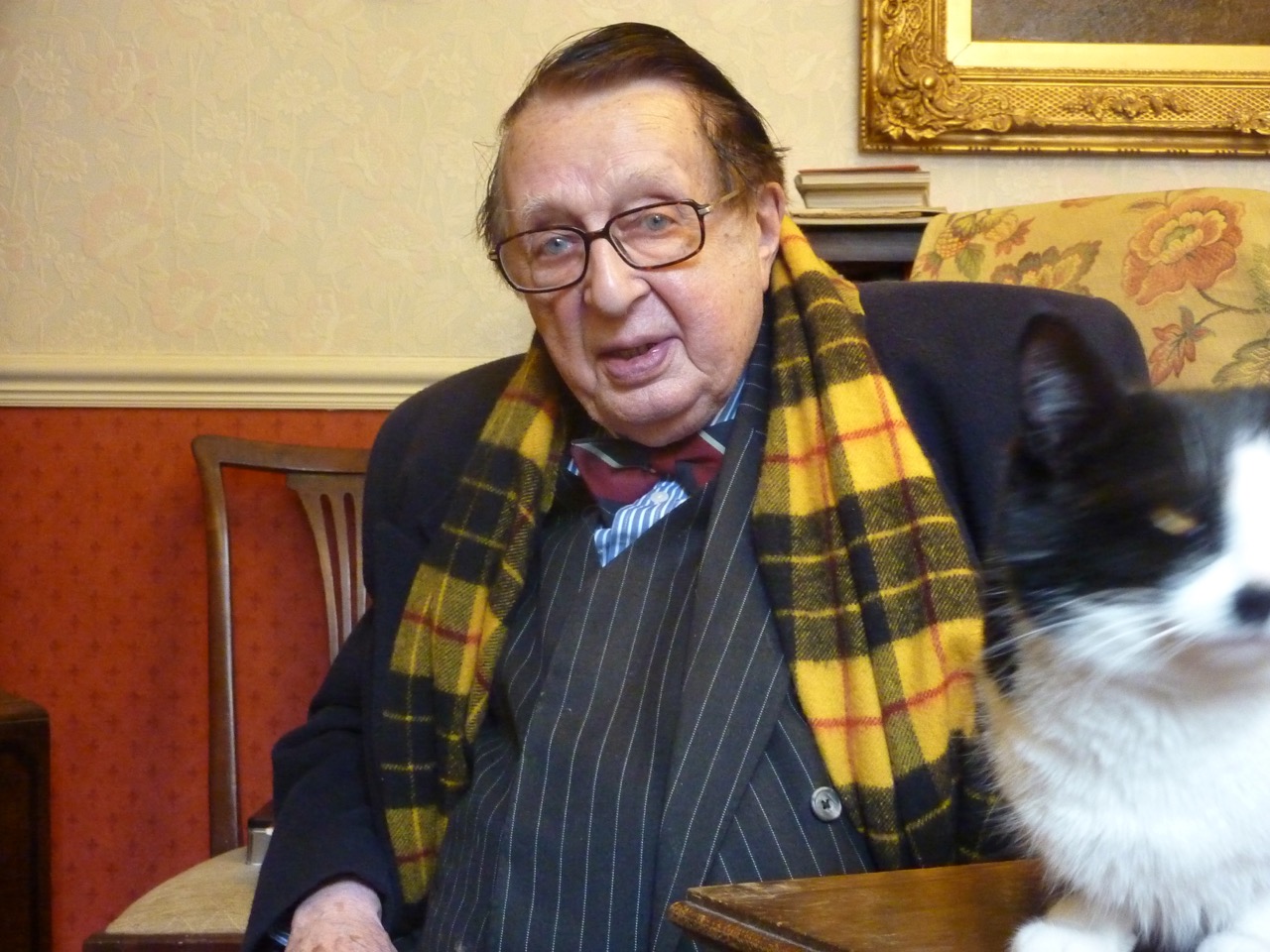 Maurice Wilkinson – 1921 – 2019
---
Bob Pawsey
I have tucked Bob Pawsey in here because he was the enthusiast who secured the fixtures from the half of Maurice Wilkinson's house mentioned above. You will recognise the Falks 'Pool' fixtures in this picture.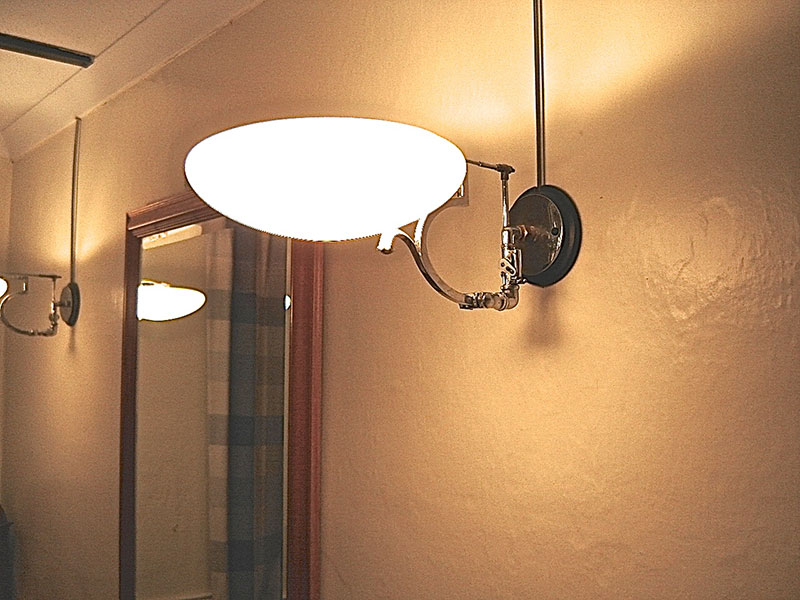 You can also tell that Bob is a gas lighting enthusiast when you get to his front door! In the picture following you see a pair of late Sugg Back Lamps that he managed to find and refurbish. More information on these fixtures is included in the section on Back Lamps.

---
Dieter Bruening – Essen, Germany.
Collectors are also restorers as beautifully illustrated in the following pictures of his 2 lt Rochester provided by Dieter Bruening of Essen. Anybody who has tried to restore either the Littleton or the Rochester will know that they were never really intended to be dismantled, especially the later ones that use diecast aluminium rings like the one shown bottom right. Most copper lanterns use brass screws in their assembly so this is what was used to hold the body parts to the ring. Fine when the ring was brass but the corrosion that occurs between aluminium and brass often makes it impossible to remove the screws without cutting off the heads and drilling out and re-tapping the thread. Doubtless the early brass rings were replaced by aluminium for economy – but you try taking one apart! Well done Dieter!
---
Brian Pocock – Cornwall, England
I am very sad to advise that Brian died on 30th September 2015.
Brian Pocock is an enthusiastic collector of gas lamps of all sorts, the majority of which are Sugg but his engineering talents have been put to work on adaptations such as using American soft mantles in place of the now very expensive Indian hard mantles. Brian lives in Cornwall and makes regular visits to the USA where his wife has a practice and retains a house which has also gained some gas lighting. This is a selection of his projects:-
Brian first contacted me having obtained a 'Back Lamp' with the label Murray & Co., Glasgow, which had a 2lt Sugg gas burner that had been butchered to make into an electric fixture. He wanted to fit it with a replacement gas burner for LPG so I recommended a 2lt burner from the Sugg Lighting Victoria Back Lamp but he actually added a 3lt burner! The result was excellent as you can see below but proved hard on the glass! Eventually the original 2lt Sugg conversion burner was refitted:-
The Windsor below is an original Suspension or Cradle model with large 'oak leaves' or 'ears'. It has a nice porcelain reflector and Brian has fitted an upright burner with time clock. His non original suspension may have to be replaced as the wind had caused mantle breakage through excessive movement!
Below is a nice square section tube swivel wall bracket and on the right is the view of the three burners of the 'Regent' lamp which predates the superheater of the Rochester & Littleton lamps.(qv)
Below is a refurbished 1 lt Littleton with pilot and an 'upright' burner mounted as a table lamp
Three more 'table lamps' below. Interesting temporary application of a double swivel wall bracket and in the centre a nice support for a Sugg 'Elite' burner.
Proper application, below, of the double swivel wall bracket with upright mantle and a swivel wall bracket with lever cock and chains and permanent pilot.
Sugg 1548 cast aluminium 'Indoor Back Lamp', below with another 'table lamp' and 'the summerhouse with gas lighting.
Welsbach 'Kern' gas fire and a closer view of the lit Sugg Bon Marche lamp with non original glass lowered a little, nicely demonstrating the reflector effect particularly suited to high ceilings, producing a lovely soft light.
Brian's collection currently includes from Sugg, 4 Littletons, Surbiton, Westminster, 6 Bon Marche, Elite, 1548 Back Lamp, Windsor suspension, Regent, 6 lt Rochester. Several non Sugg and mongrels AND as he says
1 moderately tolerant wife and 1 very happy propane supplier!
Here are more pictures of a further selection of Brian's gas fixtures – mostly Sugg but one Foster Pullen street lamp and noticeable use of soft mantles. Brian says that these mantles have been very reliable although he has had to increase the gas rate somewhat.
In many respects Brian could be considered our first 'Specialist' as he has certainly 'invented' some new lamps but I think even he would agree that Martin Lawrence who you will find below does have just an edge when it comes to constructing a gas lamp from all new components including items from supermarkets!
---
Dorron Harper – Preston, England
Dorron Harper has been a gas lighting enthusiast for a very long time and had the foresight to take photographs of the many lamps that he has 'watched' over the years.
Most of his pictures are of lamps from more northerly based manufacturers than William Sugg. This was largely the inspiration for the section called 'Other Manufacturers' where he kindly agreed to allow me to add the pictures – along with his descriptions – to the site, both for posterity and to show the wide range of lamps and manufacturers whose products lit the streets in the 19th & 20th Centuries.
On the left is a slightly drunk Windsor in Ulverston 'still working September 20th 1972' and, on the right, a Camberwell in a wall bracket 'Kendal 5th November 1967'.
The last picture below shows a pair of restored Alder & Mackay "Hurricane-proof lanterns on the bench.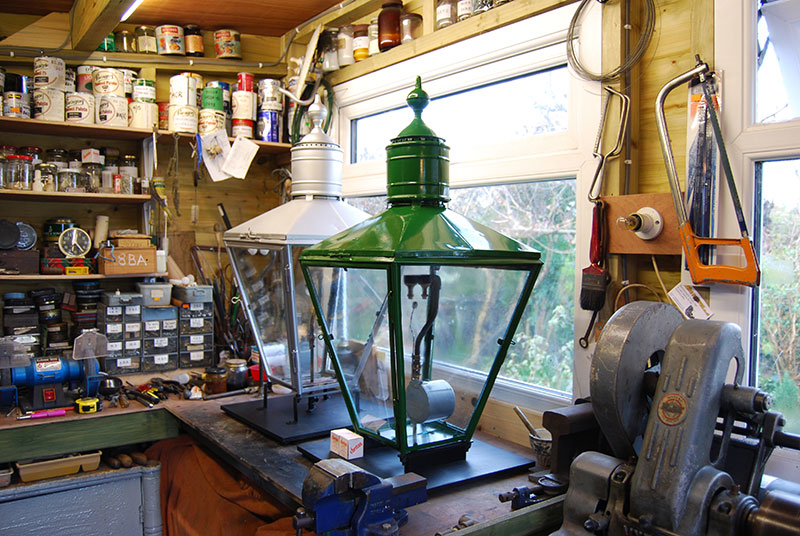 Now do go to Other Manufacturers to see many more of Dorron's photographs.
Martin Lawrence
As mentioned in the introduction to this 'collectors' section at the top, Martin Lawrence is another sort of gas lighting enthusiast – but one with a super skill and, although this is not intended as a guide to making your own gas lamp – indeed Martin points out that he is not Gas Safe registered nor takes any responsibility for people copying his approach – he wrote an article for the now defunct North West Gas Historical Society in 2009 on how to make a working gas lamp! In fact the pictures that follow are much more recent (2015) and show a wonderful disregard to convention whilst an absolute regard to the basics of gas lamp design and production to produce two different lamps that he has named after the shops/supermarkets from which particular components were sourced!
The first one, below, he calls his B&M lamp and says "It is made from a steel lampshade bought in a B&M store, plus aluminium pan for the cowl and Half Litre Pyrex dish for the glass globe!" But you can also see what care has gone into the internal structure that follows in many respects that of the Rochester and Littleton lamps – so it should work!!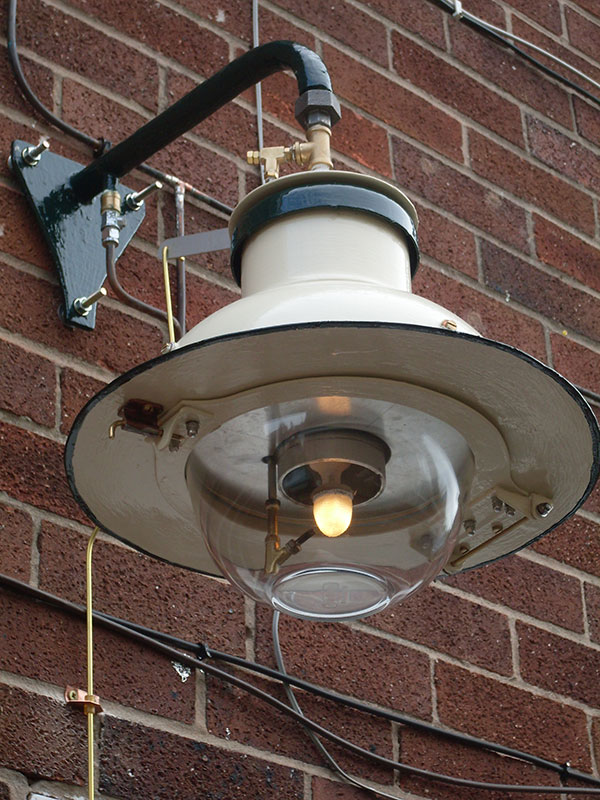 Note the 'Pyrex' glass bowl! Whilst ideal from the point of view of heat resistance being made of borosilicate and of course so cheap by comparison with the tiny quantity production used to make the standard Rochester bowls, it does not have the traditional drainage hole! Martin says "I feel that pyrex bowls are the future as they can be picked up in most supermarkets between £1.99 and £4.50. The downside is that there is no drain hole in the 'globe' bottom and on wet days the lamps are not totally watertight and the bowl can fill with water, but it does evaporate quite rapidly when the lamp is turned on!" (Note it is not possible to drill holes in this type of glass as it would shatter into millions of pieces. The original glass has the hole put in during production. C.S.)
And what about the Martin Lawrence 'Sainsbury' Lamp below!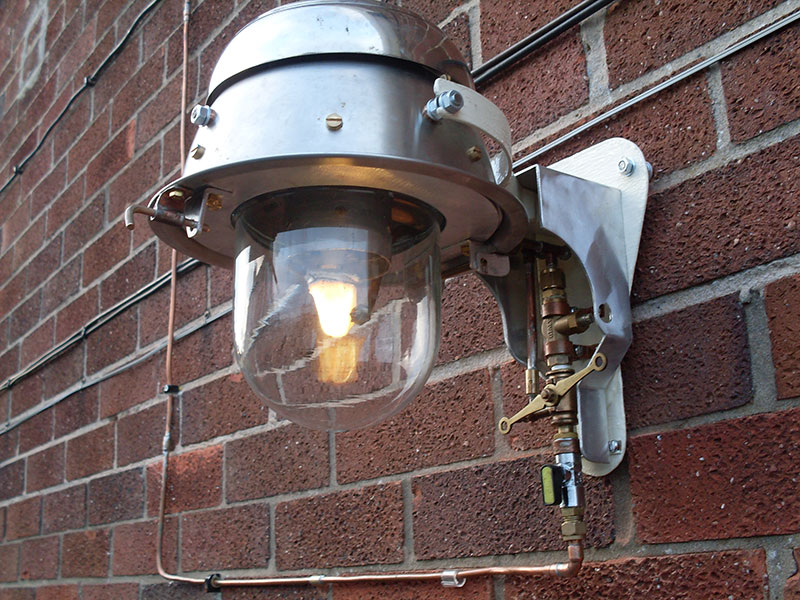 Martin says: "The one I finished last week (July 2015) is my 'Sainsbury' lamp made from a Sainsbury stainless steel mixing bowl, stainless pan and other bits and pieces."
He continues: "As I was finishing off the Sainsbury model (shown with correct globe) the globe (6050) came up on ebay for £20 to buy. I bought it there and then and it fitted with a modified support ring. The globe had seen a fair bit of use during its lifetime but for some reason one night last week after I'd switched it off, it self destructed and was in bits in the morning. A replacement is now required!
You can also see another example of Martin's skill in the 'Other Manufacturers' section under Falks Veritas. Here he transformed a complete wreck of an Upright lamp into a handsome operating gas lamp again. Veritas made a number of both suspended and Upright models that 'ape' the Sugg Rochester sufficiently closely to confuse the uninitiated. To be fair that did include me as well when I first came across one! Obviously the enormous success of this range of Sugg lamps was going to tempt some manufacturers to copy the style and this one is really quite close. I will add more details to the Falks Veritas section in due course to show you the differences.
---
Oil Hand Lamps by William Sugg
There is one section that should perhaps be included within 'Collectors' but at present has its own section. Railway hand lamps are currently included under 'Lighting' as 'Oil Hand Lamps' so if that's your interest see if there is anything you can add, others have already!
---
If anyone has any suggestions, wishes to be included in this section, or to make any proposals related to this section, please reply via the form below.
Copyright © Chris Sugg 2006-13