Early Lamps
(This is an element of 'Lighting – Street Lamps')
All that a lantern was required to achieve was to protect the source of light from the weather. As all sources of light were achieved through burning an inflammable material requiring oxygen to burn and needing a chimney for the flue gases whilst also producing heat, these three determined the size and structure of the lantern. In general, the single flame would be the cheapest to run and require the smallest structure. Of course by the Victorian period glass had replaced the horn glazing and the Sugg company was using gas as the fuel for the flame. William Sugg's careful development of the gas burner (see section on Open Flame Burners) was initially applied to lanterns which could just as equally have been made for oil burners. The simplest lantern was a square glazed box with 4 pieces acting as a roof or 'tent' and 4 pieces forming the sides. There was a central chimney and the bottom was open to let air in. The structure that held all this together i.e. the frame, needed to be something easy to manufacture by hand and strong enough to withstand the conditions of use. Copper was an ideal material because it could be made into thin sections from sheet which by suitable forming or shaping can be much stiffer than the sheet in the flat form. In addition it can be held together strongly and easily by soldering at a relatively low temperature and, importantly, it is inherently stable suffering very little from corrosion in the air – i.e. it does not 'rust'. (Copper is still used very widely in the 21st century for the production of 'traditional' or 'heritage' lanterns whilst large numbers of original lanterns still exist because of the material from which they were made.)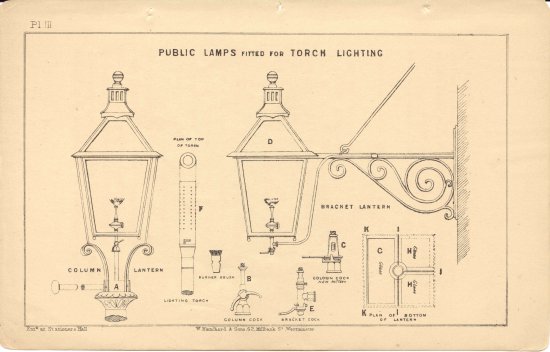 The illustration above shows the lamp named in the leaflet below as an 'Old Fashioned Street Lamp' in both post and wall mounted arrangements. In both cases the lantern is suspended in a cradle in exactly the same manner as the earlier oil lamp would have been mounted, to allow the lantern to be removed for regular cleaning and filling. By the time of this diagram, however, the lantern has an improved burner which as you can see passes through a hole in the bottom of the lamp, thus preventing the lantern from being lifted out of the cradle.
Once this change to the burner has been established and the cradle is no longer relevant, it becomes unnecessary and the lantern is then mounted directly on the bottom corners of the frame with what is commonly called a 'frog' or 'chair'. The earliest 'frogs' follow the shape of the outward turned base of the 'basket cradle' before developing into an inward formed shape to allow more room for the gas tap or lever cock and the lamplighter's torch. The 'Nictheroy' below, which seems to have developed into the 'Camberwell', shows the outward formed frog, whereas the other three have the later shape. This later 'frog' is built on a ring which enables the lantern to be mounted and removed from a spigot on a cast lamp post or wall bracket. Often the earlier mounting was screwed directly onto the post.
The June 1888 leaflet for the New Camberwell Improved 16″ Square Street Lamp shows an outward formed frog, glazed top and the option of 'name plates' for an extra 1/- from 15/- to 16/-. In this case the frog is offered as a 'Well Made strong Wrought Iron Cradle' for 3/-. (1/- = 5p)
These two pictures illustrate, on the left, an original basket cradle support on an electrically converted, originally glazed top, lantern in the gardens of the Royal Pavilion in Brighton and, on the right, a 'modern', also electric, Sugg Camberwell in a cradle suspension illustrating how the top glazing is illuminated by the light source.
UNDER CONTINUOUS DEVELOPMENT – PLEASE TRY AGAIN LATER
Copyright © Chris Sugg 2006-13
Top of page
or
Back to 'Street Lamps'
or
Back to 'Lighting'